Steamed Modak is a sweet dumpling stuffed with coconut and jaggery. Highly popular in Maharashtra on Ganesh Chaturthi. It is considered to be one of the favorite foods of the deity Ganeshji.
Ingredients (10-12 pieces)
Rice Flour – 1 cup
Water – 1 cup
Oil – 1 tsp + 1 tsp
Salt – a pinch
Oil for greasing
White Sesame Seeds – 1 tbsp
Poppy Seeds/khus khus – 1 tsp
Grated Jaggery – 1 cup
Coconut Powder – 1 cup
Cardamom Powder – ½ tsp
Cashewnuts – 6-7 (chopped)
Almonds – 4-5 (chopped)
Raisins – 15-20
Ghee – 1½ tbsp
Method
Heat a non-stick pan on low heat, add ghee to it. Saute khus khus seed and white sesame seeds for 40-60 secs.
Add jaggery and cook over a slow flame till it melts. (will take about 2-3 minutes).
Now add coconut powder and mix it properly, till it gets mixed with jaggery. (will take about 4-5 minutes).
Add cashewnuts, almonds, raisins, cardamom powder and mix well. Filling is ready, keep aside to cool slightly.
In another pan boil the water. Add 1 tsp oil and a pinch of salt in the boiling water and stir.
Switch off the gas. Add the rice flour while stirring continuously. Whisk well so that there should not be lumps. Cover with a lid and keep aside for about 5-6 minutes.
Grease your palms with a little oil and knead the dough while it is still warm.
Divide the dough into 10-12 equal parts (1 tbsp of dough for each part) using oil. Then flatten each of them into a round shape with the help of palm, 3-3½ inch in diameter.
Add a spoonful of the filling into the centre of the dough. Bring all the ends together in tiny pleates and press lightly to seal by forming a cone at the top.
Prepare a steamer by adding water, a tsp of oil and heat it till the water comes to a boil. While the water is simmering, place the modaks on a greased steamer plate, cover it with lid and steam for 8-10 minutes.
Once the modaks are cooked they will turn translucent. Serve hot.
NOTE:- If we don't have steamer we can fill one big vessel with water. Place a slotted dish or vessel over the water. Then place modaks. Cover with a lid.
Summary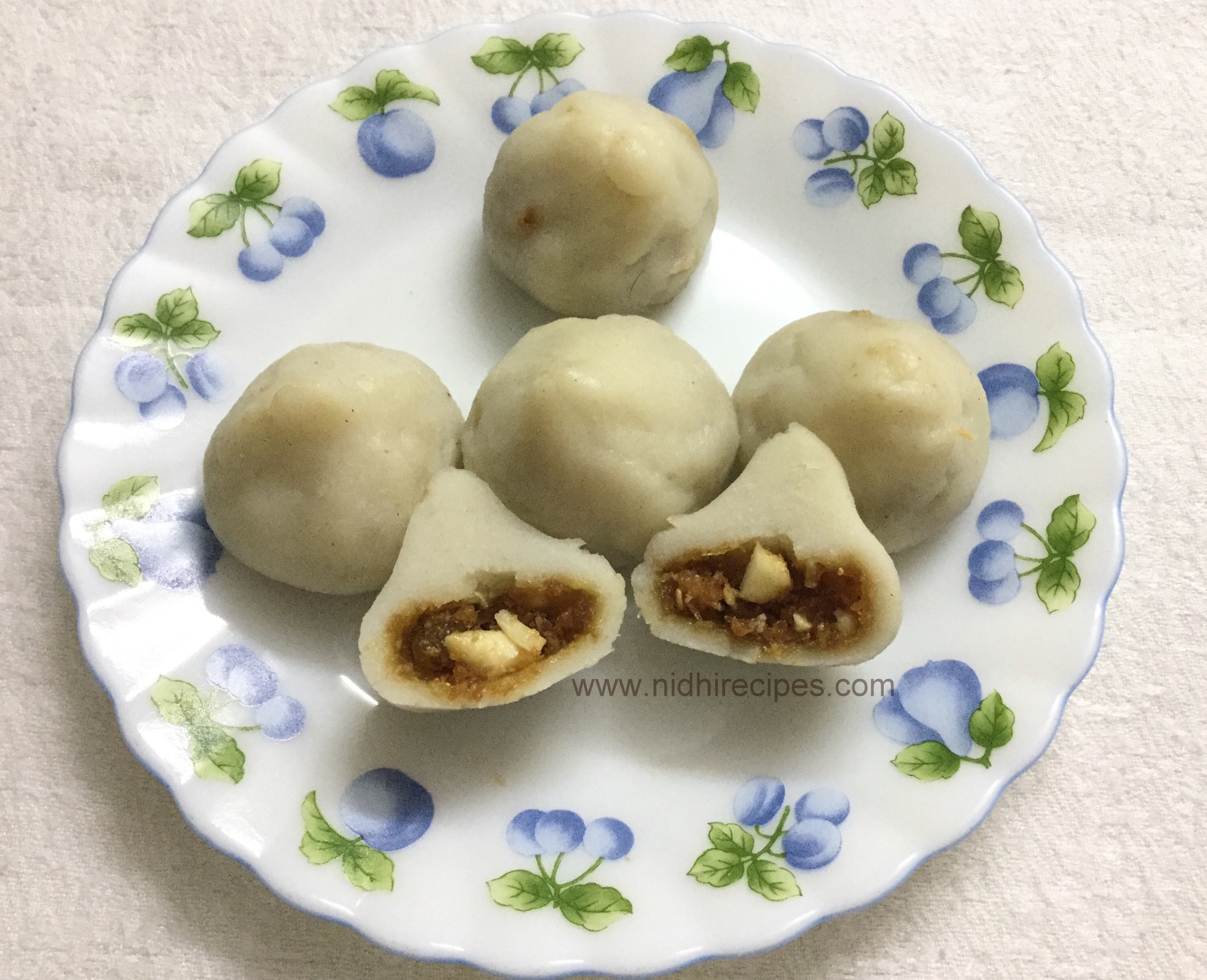 Recipe Name
Published On
Preparation Time
Cook Time
Total Time