Vegetable Momos are steamed dumplings stuffed with a lightly spiced vegetable filling. Momo is usually served with a dipping sauce with base ingredient as tomato and red chilli. Momo has become a traditional delicacy in Nepal, Tibet and among Nepalese/Tibetan communities in Bhutan, Sikkim and Darjeeling district. It is one of the most popular fast foods in many regions of Nepal populated with people of Tibetan or Himalayan origin. Momos have spread to India in places with a significant Tibetan and Nepalese people, including Some states of India (West Bengal, Assam, Delhi, Mizoram, Manipur, Nagaland, Meghalaya, Himachal Pradesh, Bangalore, Arunachal Pradesh, and Uttarakhand). Basically, there are two types of momos, steamed and fried.
Ingredients (20 momos)
Maida/ All purpose flour – 2 cup
Oil – 1 tsp oil
Salt – ½ tsp
Water – for kneading
For the stuffing
Garlic – 3 cloves (chopped)
Onion – 1 (chopped)
Spring Onion White – ¼ cup (chopped)
Cabbage – 1 cup (finely chopped)
Carrots – 1 cup (finely chopped)
Capsicum – 1 (finely chopped)
Spring Onion Greens – ½ cup (chopped)
Soya Sauce – 2 tsp
Black Pepper Powder – ¾ tsp
Salt – to taste
Oil – 1 tbsp
Method
For the outer cover of momos–
In a bowl add maida, salt and oil. Mix it.
Knead it to a firm dough using little water at a time. Cover the dough and keep aside for 25-30 minutes.
For the stuffing-
Heat oil in a pan, add garlic. saute for 5-10 seconds.
Add onion and saute for 20 seconds. Add spring onion whites and saute for 1-2 minutes.
Add cabbage, carrots and capsicum and stir fry the vegetables on high heat for 5-6 minutes.
Add the spring onions greens and stir fry for a minute.
Add soya sauce, salt and pepper.
Continue to stir till the vegetables are cooked or for another 4-5 minutes on a medium high heat.
Making the momos–
Divide the dough into twenty equal parts.
Make ball of each part and keep them covered with a moist cloth.
Take each dough ball and roll each ball into a thin circle of about 2-3 inch diameter on a lightly dusted board. Make sure that the edges should be thin and the center should be little thick.
Place 1-2 tsp of stuffing in the center.
Now from one side of the edge and start pleating. and at the end, join the pleats in the center. (there are 2 methods which are shown in the video)
Prepare all momos in this way and keep them covered under a moist cloth till your steamer is ready.
Heat water in a steamer or a pan. Let the water come to a boil.
In a greased perforated plate, place the momos keeping space between them so that they don't touch each other.
Steam momos for 10-12 minutes.
Now check the momos by touching them. On touching if the momos does not feel sticky and have a transparent look, then it means they are cooked.
Once done, serve momos with momos chutney.
Can also be served with schezwan sauce or any other spicy sauce.
NOTES
Do not overdo the steaming otherwise the outer covering will become hard.
The steaming time varies on the thickness of momos cover.
Summary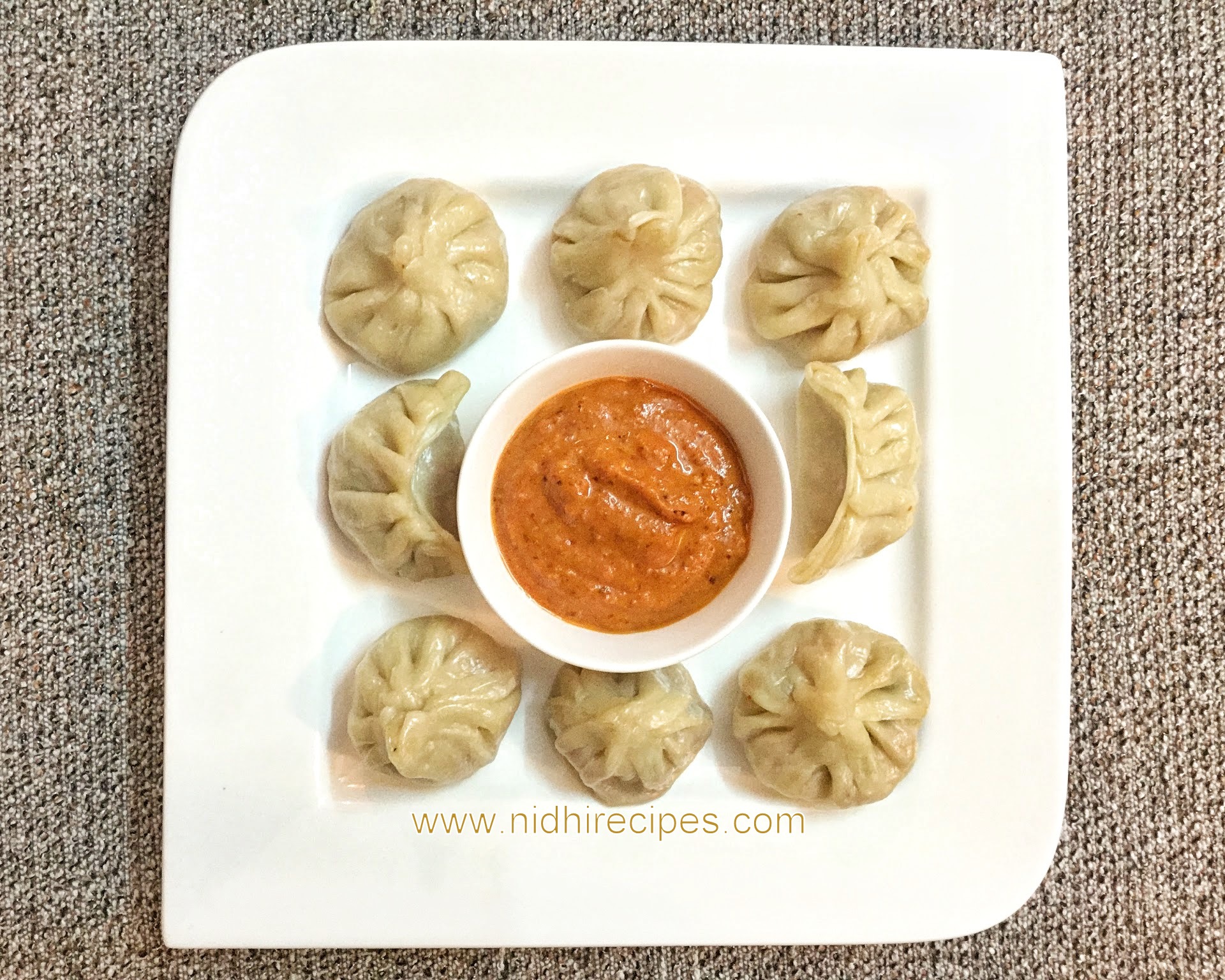 Recipe Name
Published On
Average Rating
Based on 4 Review(s)